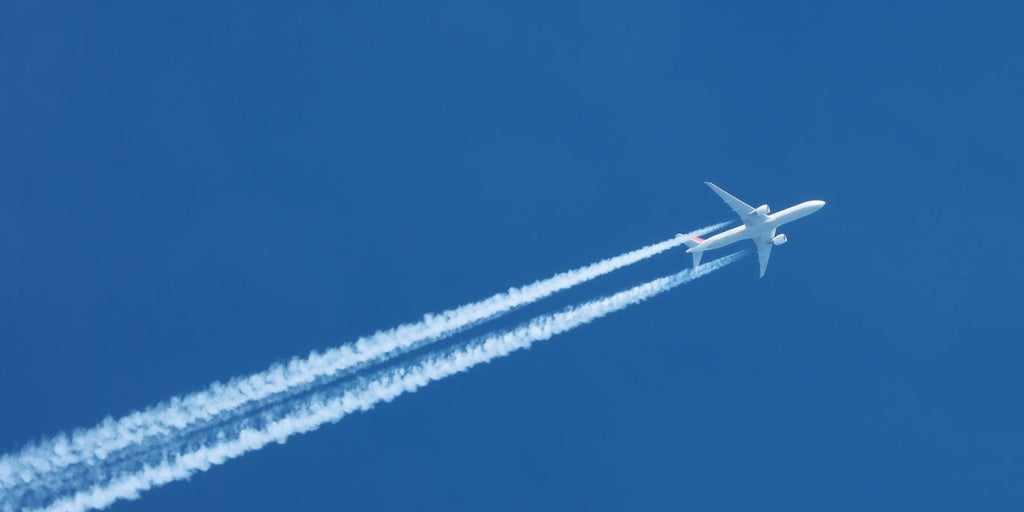 Uncovering the Mystery: The Science Behind Airplane Contrails
Contrails, or the white grooves left by airplanes in the sky, are a fascinating physical phenomenon that has captured the attention of scientists and laypeople alike. While they may seem like a simple occurrence, contrails are actually the result of a complex interplay between several factors.
The first factor to consider is temperature. Clouds form when air condenses, which only happens when its humidity reaches 100%. The temperature at which this occurs is extremely low, around -56°C in the highest layer of the troposphere where commercial airplanes fly.
Another important factor is the engines used by airplanes. These engines generate thrust by burning fuel and oxygen, producing combustion gases such as carbon dioxide, sulfur and nitrogen oxides, metal particles and soot. The water vapor produced by these combustion gases is much hotter than the surrounding air and condenses to create contrails.
The third factor is the expansion of gas as it leaves the plane's engine. Inside an engine, molecules are highly compressed due to heat and pressure. When they exit through an exhaust port, they expand rapidly into cooler air, creating a shock wave that can cause contrails to form.
In order for us to see contrails, several conditions must be met: wind must be uniform and not too strong; there must be no clouds in lower layers; and altitude must be high enough for water vapor to condense into ice crystals that make up contrails.
One question that arises from this physical phenomenon is why not all airplanes leave behind contrails. The answer lies in the efficiency of their engines: more efficient engines produce less wake at lower altitudes. At present time, aviation uses some of the most efficient engines available so planes draw contrails at increasingly lower altitudes but older planes still coexist with newer ones and we can observe how some leave trails while others do not based on their engine efficiency levels.
Contrails also provide valuable information about weather conditions: thin tracks with short duration indicate good weather while thicker tracks with longer durations suggest moist air at high altitudes which could be an early warning sign of storms or rain clouds forming nearby