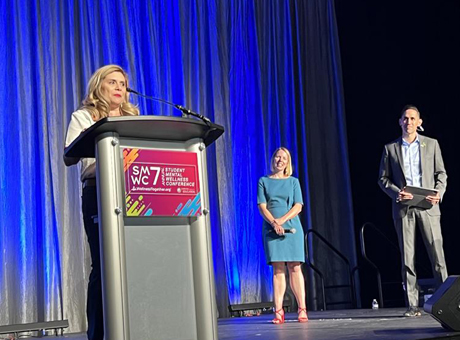 State Mental Health Commission Appoints Mara Madrigal-Weiss as Chair
Mara Madrigal-Weiss, the executive director of student wellness and school culture for the San Diego County Office of Education (SDCOE), has been appointed as the chair of the Mental Health Services Oversight and Accountability Commission for the third consecutive year. This remarkable achievement makes her the longest serving Latina chair in the 20-year history of the commission. Her new term will begin in January 2024 and last for one year.
Madrigal-Weiss has been serving as a designee of the State Superintendent of Public Instruction on the commission since 2017. In addition to her role as chair, she also serves as chair of the Prevention and Early Intervention Subcommittee, vice chair of the Workplace Mental Health Committee, and previously served as commission vice chair after her election in 2019.
Recognizing her commitment to student mental health, Madrigal-Weiss received the first Wellness Together Mental Health Innovator Award earlier this fall. Her team is responsible for maintaining SDCOE's virtual wellness center and compiling mental health support resources for students, families, and schools to prioritize health and wellness. She also regularly contributes to SDCOE's resource guide library, including guides for educators, resources for the holidays, and how to facilitate dialogue with compassion.