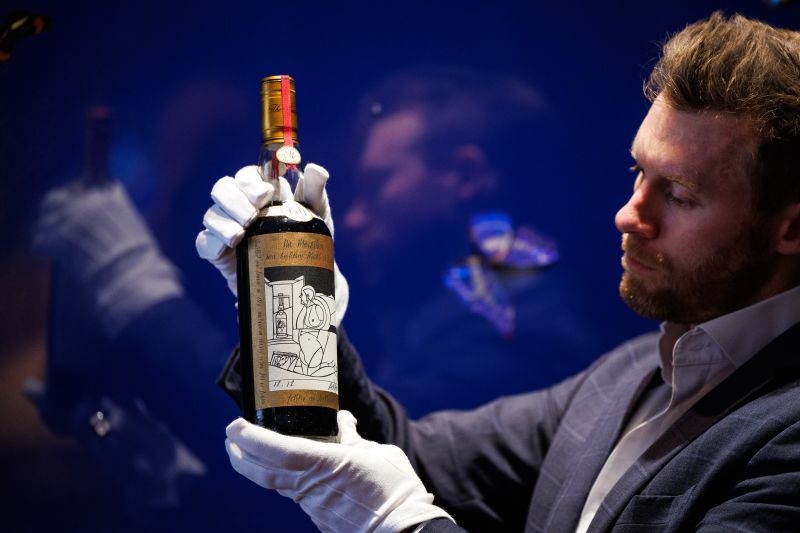 Rare Whisky fetches $2.7 Million in Record-Breaking Sale
A unique bottle of Scotch whisky has sold for over £2.1 million ($2.7 million) at Sotheby's in London, setting a new record for any spirit or wine sold at auction. The Macallan 1926 is one of only 40 bottles that were drawn after aging in sherry casks for 60 years, making it the oldest Macallan vintage ever produced.
The sale exceeded Sotheby's expectations and was described by head of whisky, Jonny Fowle, as "very rich" with "a lot of dried fruit," "a lot of spice," and "a lot of wood." None of the 40 bottles from 1986 were available for purchase, and some were instead offered to The Macallan's top clients. This added to its appeal as seen in previous sales of the bottles.
In 2019, Sotheby's sold a bottle of The Macallan 1926 for £1.5 million ($1.9 million), at that time making it the most expensive bottle of wine or spirit ever auctioned. Saturday's sale was one of 12 bottles labeled by Italian painter Valerio Adami, and the first to have undergone reconditioning by The Macallan Distillery before being sold at auction. Additional bottles were labeled by pop artist Sir Peter Blake, while two remained unlabeled. One unlabeled bottle was hand painted by Irish artist Michael Dillon and became the first bottle of whisky to surpass £1 million ($1.2 million) when it sold in 2018 for £1.2 million ($1.5 million), according to the auction house.