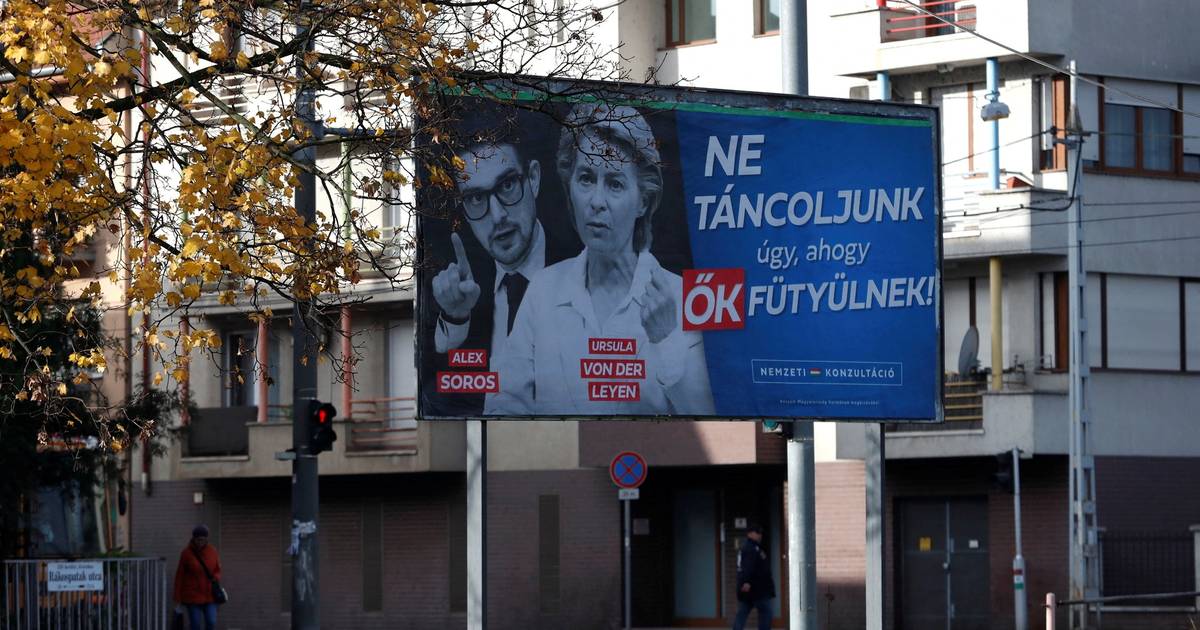 Hungarian Billboard Urges Ursula von der Leyen: "Break Free from EU Control!
Hungary's ruling party, Fidesz, has launched a campaign against European Commission President Ursula von der Leyen in the lead-up to the upcoming European parliamentary elections. The posters feature von der Leyen alongside Alex Soros, the son of Hungarian-born liberal billionaire George Soros. The campaign's slogan is "Let's not dance as they play," suggesting that Fidesz is not happy with the current state of affairs in Europe and wants to take a more assertive stance.
This move is similar to Fidesz's previous campaign against von der Leyen's predecessor, Jean-Claude Juncker, which drew criticism from Brussels. Some have accused Fidesz of using George Soros as a central figure in their propaganda as evidence of anti-Semitism, though Fidesz strongly denies this claim. In 2019, billboards featuring Juncker alongside Soros drew a rebuke from Brussels and were eventually removed by Fidesz after threats from the EPP to expel them if they did not comply.
Fidesz has been working hard to unblock billions of euros in EU funds suspended by Brussels due to their policies. Prime Minister Orban has been vocal about his dissatisfaction with the current model of the EU built in Brussels and has expressed sympathy for Russia while expressing skepticism about Ukraine joining the bloc. This topic is expected to be a major point of discussion at the next EU summit in mid-December. In an effort to gauge public opinion on this issue, Orban recently sent out a survey asking Hungarians whether more funds should be allocated to Ukraine or if membership should be granted.
This campaign puts Hungary squarely in the spotlight within the EU and could have significant implications for its relationship with the bloc moving forward.