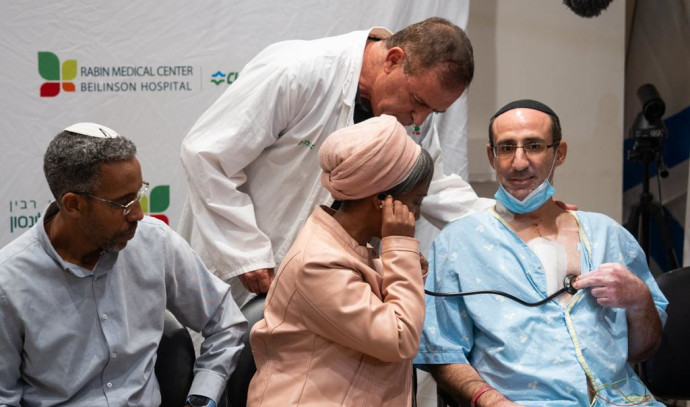 Heartfelt Reunion: Parents of Fallen Soldier Meet the Recipient of His Transplanted Heart
The emotional meeting at Beilinson Hospital was led by Dr. Lena Korn Feldman, the hospital's director, who expressed her heartfelt condolences to the Samo family. She had been deeply touched by Jonathan Samo's story and accompanied him from his arrival at the hospital until his passing.
Tammy Fink, the transplant coordinator at Billinson Hospital, also spoke about her personal connection to the situation as a mother of a fighter in Gaza. She emphasized the special bond that exists between mothers in difficult circumstances and how Jonathan's sacrifice would inspire others to follow in his footsteps.
Moshe Samo, Jonathan's father, praised his son's selflessness and bravery both in his military service and through his organ donation. Professors Dan Arabot and Yaron Barak, who were involved in the heart transplant procedure, highlighted the historical significance of this transplant in Israel's history and the sacrifices made by Jonathan for humanity.
Dr. Ben Ben Avraham, who treated Jacob Malka after receiving a heart transplant from Jonathan, emphasized how immense gratitude and impact Jonathan's organ donation had on so many lives. Jacob himself expressed mixed emotions about receiving a heart from a fallen soldier but was grateful for the new life it had given him.
The meeting with Tehilah Tespiya's family highlighted how Jonathans liver lobe donation had saved their daughter's life. Tehilah's mother expressed her gratitude for her daughter's renewed health while Jonathan's mother found solace in knowing that her son had saved others through his ultimate sacrifice.
The Schneider Pediatric Center meeting reaffirmed the immense impact that Jonathan's gift of life had on so many people. The medical staff felt grateful for having been able to give hope back to those whose lives were saved through his selflessness and courage.
Overall, the emotional meetings were filled with appreciation and acknowledgment of how much of an impact Jonathans organ donations had on so many lives.