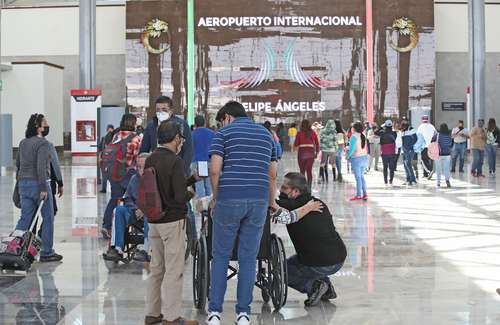 Ensuring Safe and Efficient Access for Suburban Train to AIFA Station
The Felipe Ángeles International Airport (AIFA) Suburban Train branch is facing obstacles in obtaining the right of way, which is preventing the start of tests and the scheduled opening in the third quarter of 2024. Despite this setback, President Andrés Manuel López Obrador has pledged to complete all work during his administration. Max Noria, director of Marketing for Suburban Railways, announced that by September, the authority reported that they were 80% clear of the road. However, the exact number of sections remaining in the 15-kilometer section where the company works is unknown.
The Suburban Train branch's operation is scheduled to begin in the third quarter of 2023. This will involve developing and testing all trains, systems, and subsystems that make up this branch. According to Noria, work can be maintained without interruptions if there are no road occupations or other inconveniences.
The new deadline implies an extension of the previously mentioned date by Deputy Director Mobility at AIFA, who stated that the train would be operational in June 2023. The 23-kilometer construction project covers eight kilometers at Santa Lucía airbase polygon, which has already been delivered. The remaining 15 kilometers require work on elevated viaducts between municipalities in Tultitlán and Tultepec due to ground level constraints on construction sites. Additionally, Ferrocarriles Suburbanos is installing equipment on the branch line and setting up necessary systems for train operation.
The Secretariat of Infrastructure Communications and Transportation is responsible for acquiring trains, maneuvering yards and real estate for stations for this comprehensive project was only 46% completed as per Noria's statement in September with around-the-clock work being conducted with over 77 machines and more than 2000 people involved to meet its completion goal before President López Obrador completes his term in office.